Strainstall is supporting the world's largest floating offshore wind farm (FLOW) to enhance safety and provide critical data insights.
Implemented by First Subsea onto their Platform Mooring Connectors (PMCs), Strainstall's patented Strain Ring technology enables developers to increase platform safety and cost-efficiency through design optimisation and value engineering.
Overview
Located 15km off the south coast of Aberdeen, the wind farm started generating renewable power in September 2018 with the installation of its first 2MW turbine. Costing an estimated £500 million, the wind farm will generate enough power for 56,000 homes when all five of its turbines go live later this year.
As part of the project's next developmental phase, First Subsea's PMCs will be equipped with Strainstall's load monitoring solution to deliver highly accurate, real-time data for one of the wind farm's platforms.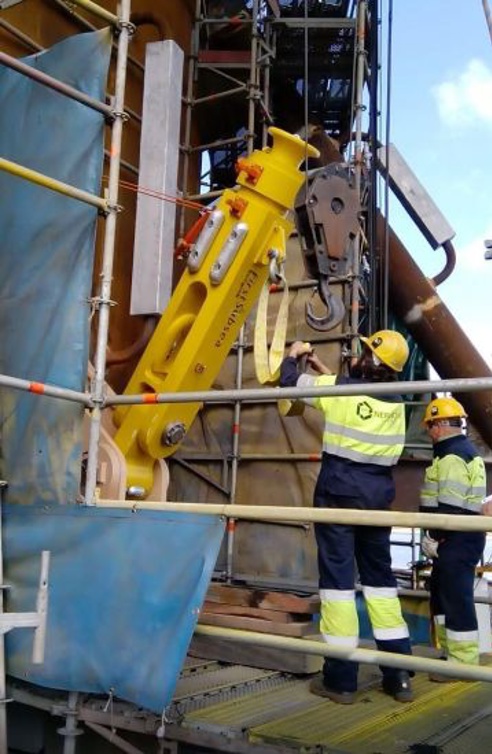 Challenges for the sector
While the FLOW industry still has some way to go to achieve parity with the Levelised Cost of Energy (LCoE) of its fixed-bottom counterpart, floating turbines promise to unlock areas for wind development in waters too deep for regular monopile or jacket foundations. This is against the backdrop of a global scale-up 'Catch-22', in which developers continue to argue the need for a larger pipeline (capacity) to reduce FLOW's costs, while governments call for proven cost declines before allocating funds. In the UK market, this cycle is beginning to give way to a more streamlined path to technological commercialisation – as illustrated by the latest announcement that FLOW may be included in the government's 'Contracts for Difference' (CfD) initiative.
The UK has particular advantages both in terms of its successful deployment history and native supply chain competencies – which are widely recognised and depended upon by the hydrocarbon sector. This framework provides floating wind developers with solutions that can overcome the challenges of commercialising in a viable and sustainable way.
Challenges for the project
When operating floating offshore wind turbines, it is essential to understand the stability and motion performance of the floater. The ability to obtain mooring loads and validate those against theoretical models provides a robust foundation for full-scale commercialisation, securing FLOW projects against any threats to mooring line failure.
First Subsea's challenge revolved around the need to be able to be to retrofit a solution which could provide the platform operator with accurate and reliable mooring load information without significantly changing the existing design of the PMCs. As Strainstall's system is directly mountable and installed using merely four bolts, only minor machining modifications had to be made to the connectors. First Subsea also preferred to not use direct load measurement devices in a subsea environment for the PMCs, favouring the Strain Ring's indirect load measurement capability. This was driven by a number of factors including the additional certification that was needed to meet class society requirements and the associated costs.
Solution
First Subsea chose the indirect load monitoring functionality of Strainstall's Strain Rings as they capture strain information directly from the bodies of the PMCs, which can then be resolved to derive the mooring loads without having to form part of the primary load path. Easily implemented into the design of the PMCs with minimal modifications, the integration of the Strain Rings proved to be a cost-effective and simple solution which, unlike a load monitoring pin, did not have to be built to withstand the loads associated with forming part of the primary load path. Requiring a solution that was proven to deliver accurate load measurement, Strainstall's Strain Rings were also selected in light of their successful implementation for major projects worldwide. Deployed within the E&P sector for nearly two decades by many of the largest oil operators in the world, this technology has been installed on both new build and retrofit projects to obtain mooring load data for floating assets including FPSOs and semi-submersible platforms.
These will allow project stakeholders to benefit from asset lifecycle forecasting of the moorings, material reduction and value engineering, providing long-term improvements for platform safety and cost-efficiency.
Additionally, Strainstall collaborated with First Subsea to design a custom-made dynamic cable which allows the movements necessary to accommodate various orientations during different operational conditions.
Requiring minimal modifications to an existing design that had already been selected by the Project Developer, First Subsea identified that Strainstall's unique subsea Strain Rings were easy to install and replace – should the need arise. Designed to maximise durability, they were an ideal solution for the project's harsh offshore environment, as they required minimal servicing and had no moving parts.
Benefits of Strainstall's Strain Ring solution:
Easy to install while requiring low maintenance
Does not have to be rated to the load – increasing costefficiency
Extremely sensitive with mechanically and electronically amplified output; accuracy of 0.25% of full scale means that the quality of data captured ensures that it is possible to complete robust post processing of data and comparison of model versus real-life data. Accuracy which exceeds that of direct load monitoring has the potential to identify early signs of failure or incorrect design.
Long life design (20+ years). Once installed, the unit will remain in situ for the duration of a typical FLOW project, meaning that costs can be controlled without the need to replace the unit with the resultant additional CAPEX and OPEX costs
Easily installed and can be retrofitted without need to remove load. In the event that a unit needs to be retrofitted or removed, the ability to leave the mooring spread under load is a significant benefit versus a traditional load cell installed within the primary load path. This saves on potential down time which impacts revenue generation and increased OPEX costs
Ability to install in pairs, delivering the capability to see out of plane bending movements which gives additional insights into the loads in the mooring arrangement, which has the capability to potentially identify early failure or incorrect operation/design
Designed for subsea and surface applications. Unlike any other strain gauge, the Strain Ring can be installed subsea to enable the capture of information for extended time periods in harsh operational environments
The solution is also suitable to install across a range of structural applications, from FLOW platforms to wave energy converters.