Why diversity and inclusion is important
James Fisher operates in 25 countries across the world, in complex, high-risk, historically male-dominated fields. In alignment with our values, we believe that equality, diversity and inclusion are critical to how we operate.
Our mission is to cultivate a working environment where everyone knows they belong, where our people are comfortable with sharing their perspectives and experiences without fear of recrimination, uniqueness is embraced, and equal pay and access to opportunity exist for people of all backgrounds, personalities and abilities. With a diverse workforce and an inclusive work environment, we are better able to harness the wealth of ideas that will drive our success.
Our commitment to equality, diversity and inclusion extends beyond our own workforce. We aim to benefit and positively influence the communities where we live and work through proactive engagement, employing local people, contributing to local economies, and investing in local supply chains.
DIVERSITY AND INCLUSION
KPI
BASELINE (2021)
TARGET
TARGET DATE
% Female employees as a proportion of total employees
23%
During 2022, we will set clear targets, with the aim to report in 2023.
% Black, Asian and minority ethnic (BAME) employees as a proportion of total employees 
During 2022, we will establish a baseline, with the aim to commit to a target in 2023.
Total charitable employee days "donated"
Number of community initiatives executed by James Fisher
Progress on diversity and inclusion in 2021
During 2021, we focused our efforts on implementing and driving change across four themes:
Diversity metrics
Training and policy
Partnerships
Local community efforts
Diversity metrics
The ratio of female employees to total employees remained the same in comparison with the previous year. During 2021, we extended the executive team to include heads of operating divisions. This had the ripple effect of expanding the pool of senior managers that report directly to the executive team (see table – gender diversity metrics, 2020 vs 2021).
Following an in-depth review of our employee information gathering process and in compliance with the UK General Data Protection Regulation (UK GDPR), we have expanded the list of requirements to include ethnicity-based metrics. We have rolled out these requirements for all new hires and are working to collate ethnicity information for all employees who joined before 2021.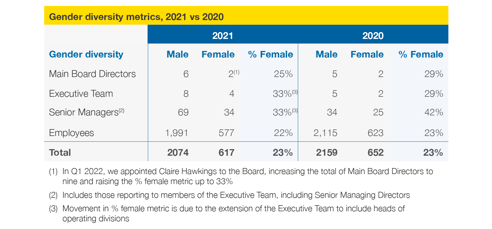 Training and policy
We rolled out two training programmes targeting senior leadership:
'Leading in an Inclusive World': Delivered with the support of specialist advisors, the training equipped senior leaders with the tools to advocate for diversity and inclusion, and to challenge contrary behaviour.
'Leading the Business' series: Online diversity and inclusion training module rolled out for all line managers across the business.
In response to an identified need, we introduced a 'Bereavement and Pregnancy Loss' policy, shedding light on the cultural aspects of bereavement so that our employees are afforded the necessary support.
Partnerships
James Fisher is signed up to the If Not Now, When? campaign. The campaign is driven by a community of over 80 CEOs who are committed to achieving black and wider race inclusion by first establishing an internal culture that is fully representative and inclusive of individuals from ethnic minority backgrounds, and then extending that commitment to customers, suppliers, and other key stakeholders.
Alongside other co-signatories, we are:
Diversifying the face of our organisation: Setting targets on talent from ethnic minority groups and holding recruiters accountable for presenting diverse shortlists.
Measuring: Investigating the specific challenges and barriers faced by ethnic minority talent and implementing processes to track ethnicity data.
Starting the conversation: allowing senior leaders and middle managers to speak boldly about issues of racism and creating safe spaces for these conversations to take place.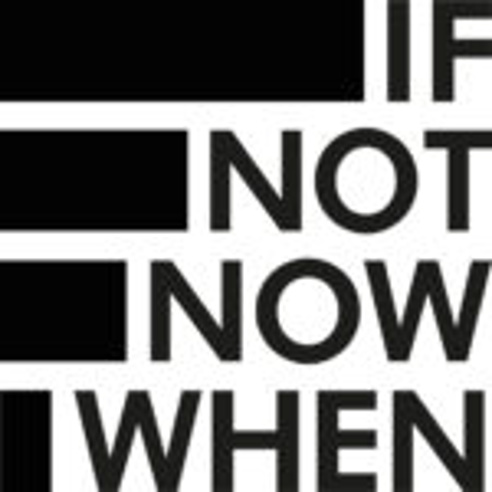 Local community efforts
During 2021, our employees contributed their time and talents to support causes across the world. Our goal was not only to support the charities and organisations, but to enable our employees to engage directly with the people we were helping, because it is in those instances we have the biggest impact.
No matter how big or small the interaction, we found that employees came away with a greater sense of purpose, better appreciation for the benefits of volunteering, and a renewed energy to contribute even more.
Historically, these volunteer programmes were coordinated in an ad hoc manner and within small teams across operating companies. With the creation of the local communities working group, the mission is to further incentivise employees to volunteer and ensure that future programmes are executed in a more structured manner, leveraging our size to scale impact and initiating partnerships with other organisations / institutions where possible. We know that the diversity of our people and their talents will act as a force multiplier, and we are challenging ourselves to have even greater impact in the years to come.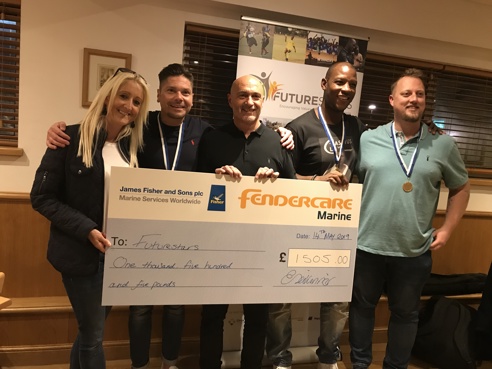 How we will deliver against targets
We will focus our continued efforts on driving an inclusive and diverse work environment by:
Scaling up recruitment efforts
Reinforcing internal processes
Extending diversity and inclusion training
Centralising coordination of local community efforts
Scale up recruitment efforts
We have strengthened female representation on the board with the appointment of Claire Hawkings, increasing the total number of board directors to nine and raising the % female metric to 33%.
We continue to intensify efforts to improve the diversity of our employee pool.
Reinforce internal processes
As we revise and communicate our culture statement, including our equality, diversity and inclusion policies and principles in alignment with the sustainability agenda, and work to set clear gender- and ethnicity-related targets, we will also update our recruitment processes to deliver our stated objectives. We must ensure that our recruitment partners share our values and support our efforts to increase our talent pool across the spectrum of human demographic differences – gender, ethnicity, age, sexual orientation, religion, socio-economic status, and physical ability. We must also sensitise interviewers, internal and external, about their conscious and unconscious biases, to ensure that prospects that do not fit with preconceived notions of what an ideal employee might be are not adversely impacted.
In compliance with the UK General Data Protection Regulations, we aim to expand the list of employee information requirements to include other demographic differences – sexual orientation, physical disability, and religion. We will continue to review and update our monitoring and tracking processes to ensure transparency and accuracy.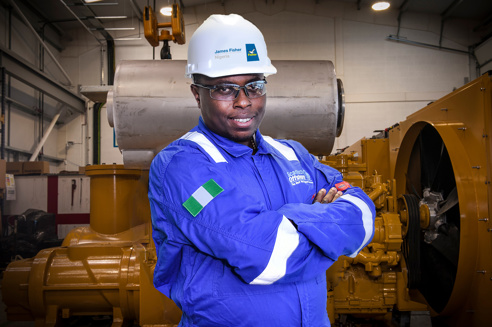 Extend diversity and inclusion training
We aim to extend our diversity and inclusion leadership training to all aspiring managers and are exploring options for non-manager training, to better inform and empower the remainder of our employee pool.
Centralise coordination of local community efforts
Building on our successes in 2021, we will continue to:
Work with local communities as collaborators and partners rather than simply focusing on them as beneficiaries and strengthen existing partnerships
Support STEM initiatives, promote education in local schools and explore further partnership opportunities
Engage customers and suppliers on their community development efforts, with the intent to collaborate where possible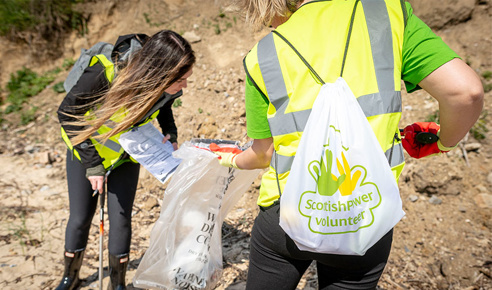 Key priorities under the people pillar of our sustainability strategy
Along with diversity and inclusion, these are the key priorities under our people pillar
People pillar
At James Fisher, we have a responsibility to our people, our customers and those in the communities where we operate. Find out more about our commitments to our people.