Our sustainability strategy is a fundamental part of our overall business model and is essential to ensure our sustainable, profitable growth.
We are committed to:
Investing in capabilities and technologies to deliver a responsible energy transition
Harnessing the potential of our pioneering employees
Being good citizens of our local communities
Becoming a trusted partner for our customers and suppliers
Driving performance to improve returns for shareholders
What sustainability means to James Fisher:
Delivering strong, profitable growth
Building on our 175-year history
Having a positive impact on all our stakeholders
A shared vision and aspiration for change and doing better
Our sustainability strategy's three key pillars
Underpinned by our purpose, the three pillars of our sustainability strategy reinforce each other and, together, support our business growth strategy.
Sustainability frameworks
James Fisher uses a number of recognised sustainability frameworks for reporting. Our current framework alignments are: 
In guiding efforts in modelling the Group's pathway to net zero, we have adopted the Science Based Targets initiative (SBTi) criteria as these provide companies with a clearly defined path to reduce emissions in line with the Paris Agreement goals. We aim to reduce our emissions in alignment with the SBTi guidance once the measurement of the full breadth of our Scope 3 emissions has been completed.

The Greenhouse Gas (GHG) Protocol:
The GHG protocol is the guiding reference for our ongoing GHG emissions footprint consolidation. It allows us to assess the emissions impact of our operations across the entire value chain and identify where to focus reduction activities. The GHG Protocol Corporate Accounting and Reporting Standard and guidance has been used in the development of our Scope 1, Scope 2 and Scope 3 identification, measurement, and reporting methodology. 
 
The Group complies with the Streamlined Energy and Carbon Reporting (SECR) regulations and is directed by the guidelines set ou by the UK governement department for Business, Energy & Industrial Strategy UK. 
Task Force on Climate-Related Financial Disclosure (TCFD): 
The Group is making its 2022 disclosure in accordance with the Financial Conduct Authority (FCA) Policy Statement 10/17 and listing rule LR 9.8.6R(8), consistent with the recommended disclosures and supporting guidance from the TCFD.
Carbon Disclosure Project (CDP):
The CDP reporting structure promotes visibility and accountability in our management of climate-related risks and opportunities. We received an accomplished scoresheet in 2022, our third-year responding to the climate change questionnaire, for the reporting period 1 October 2020 to 30 September 2021. With an overall score C, five of the 11 categories scored higher than the previous year.  

UN Sustainable Development Goals (SDGs): 
The SDGs enable the mapping of our strategy execution impact to reflect our corporate social responsibility efforts. We are currently contributing to 10 of the 17 SDGs.
James Fisher has joined or is participating in the following campaigns and organisations:
James Fisher is proud to have signed up to the In Not Now, When? campaign. As part of our journey to deliver equality, diversity and inclusion for all employees, we are committing to clear and specific actions to drive positive change for employees from black and ethnic minority backgrounds.
These actions will include:
Diversifying our organisation - Creating an environment and culture which attracts top candidates to become employees
Measuring – Assessing our performance to hold us accountable
Starting the conversation – Openly discussing diversity and inclusion, building awareness around its benefits and the barriers faced, and being transparent about progress
Council for Inclusive Capitalism (CIC):
The CIC is a CEO-led movement of businesses pursuing profit in ways that lead to a more inclusive and sustainable economy. James Fisher is pleased to announce that its CEO is a Steward member of the CIC, meaning James Fisher is dedicated to operating more inclusively and sustainably and making measurable commitments to the work of inclusive capitalism.
Find out more about the commitments James Fisher has made as part of the CIC.
INvolve works with businesses to drive positive and sustainable growth through inclusion.
James Fisher is committed to driving diversity and inclusion, and we're working with INvolve to utilise its expertise in delivering transformative programmes to help us understand best practice and drive change.
Carbon Disclosure Project (CDP):
CDP is a not-for-profit charity that runs the global disclosure system that measures organisations' environmental impacts.
James Fisher is committed to improving its reporting for the Carbon Disclosure Project as members. We responded to the CDP disclosure in 2020 and 2021 and are committed to reporting in 2022 and onwards.
The PNZP brings together different companies across all tiers of the power sector that are committed to a fair and just transition to net zero carbon emissions. The pact provides:
a common ambition for a sustainable future
collaborative working within the power sector
engagement and commitment at a senior level
Planned alignments and memberships:
The Group is committed to enhancing its sustainability framework alignment and accreditations with the growing maturity of our sustainability strategy, performance, and reporting. During 2023, we plan to develop a roadmap for achieving our key milestones, reflecting those we consider as critical to meeting our sustainability commitments.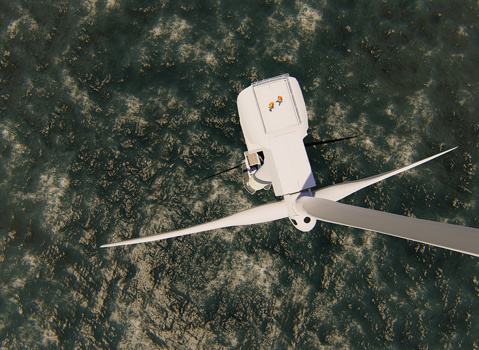 James Fisher's Sustainability Report 2022
Download our 2022 Sustainability Report to find out what sustainability means to us and how we'll deliver against our targets.