Why innovation is important
In our 175-year history, we have differentiated ourselves through innovation and technology. We are pioneers in our chosen markets, emerging as the global leader in submarine rescue, removal of offshore unexploded ordnance (UXO) and Ship-to-Ship (STS) transfer. 
We were the first to decommission a Magnox nuclear reactor, are experts in high voltage (HV) engineering, and we design bespoke digital solutions for asset owners and operators in high risk, critical infrastructure sectors.
The energy, marine, and defence markets are going through a period of transformation, galvanised by climate change, energy transition, and other macro challenges. To position ourselves for success and take advantage of the opportunities that result from this transformation, we must continue to innovate.
INNOVATION
KPI
BASELINE(2021)
TARGET
TARGET DATE
KPI under consideration
During 2022, we will evaluate the right KPI that reflects our ambition, with the aim to report a baseline in 2023.
Our innovation goal is value creation – to deliver tangible revenue gains and cost savings for our customers.
We consistently strive to better understand market challenges, articulating the value we can, and do, create by:
Tapping into the brain power and expertise of our capable people to feed the innovation stream
Partnering with customers and key industry players to co-design, develop, and commercialise cutting-edge solutions to industry challenges
Engaging our suppliers to ensure services are provided in accordance with our valued behaviours and code of conduct.
To improve efficiencies and accelerate pace, we aim to centrally facilitate and support innovation efforts to better identify synergy opportunities, particularly where multiple operating companies serve the same markets, customers, and suppliers, or operate in the same region.
Progress in 2021
Individual James Fisher operating companies have applied their own unique methodologies to the innovation process, driving cutting-edge, market-defining solutions as in the examples below.
Product innovation
James Fisher Offshore's SEABASS well abandonment tool: A strategic investment made through the acquisition of Subsea Engenuity.
SEABASS is a cost and time effective alternative to rig-based solutions when abandoning category 2 wells, due to its ability to deploy from a vessel and its suitability for any water depth. 
Scan Tech AS's ScanOxy™ oxygenation system: Based on gas production and management experience from the oil and gas industry.
The complete engineered system comprises an electrical compressor, oxygen generator, control system, nanobubble generator, and distribution system, and is primed for use in aquaculture. ScanOxy™ is perfect for both offshore and onshore fish farms in re-circulating aquaculture systems (RAS), well boats and hatcheries, and provides local oxygen production in lieu of liquid oxygen tanks or bottles.
Scan Tech's ScanOxy™ nanobubble technology is easily scalable, enables continuous oxygen production, is largely unaffected by water quality, and is technologically ahead when compared with most stable nanobubbles.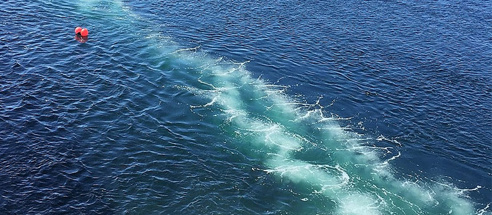 Service innovation
Fendercare Marine's LNG Ship-to-Ship (STS) transfer: By utilising a new transfer system, the Fendercare team successfully delivered three successive LNG STS transfers off the coast of Malaysia.
The new system is a universal, "plug and play" system providing the latest in technology and ensures that maximum throughput can be achieved. The system has been manufactured to meet all necessary ISO accreditations and applicable Safety Integrity Levels (SIL). Among Fendercare Marine's LNG achievements are many firsts, including the first open seas LNG STS for two of the world's largest gas majors, the first LNG STS operations at Cyprus and Gibraltar and the world's first 'on the buoy' LNG STS operation.
James Fisher Asset Information Services (JF AIS) has developed a user- led design thinking approach that is delivered through a workflow modelling workshop format.
The workshops are an immersive, engaging, and fast-paced interaction, resulting in the creation of a prioritised map of challenges specific to the customer and sector in which they operate. The map allows JF AIS to then structure and tailor solutions that will deliver optimal value to customers and the industry at large. The workflow modelling offering has been successfully deployed for customers in the oil and gas and renewables markets.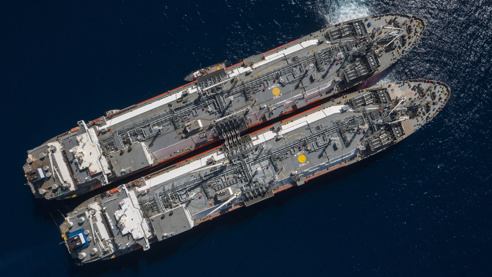 Commercial innovation
James Fisher Renewables's asset optimisation turn-key offering consolidates capabilities across James Fisher operating companies to deliver end-to-end operations and maintenance solutions for offshore transmission asset owners (OFTOs). It integrates a flexible approach to contract maintenance with our expertise in delivering on complex projects.
With the turn-key contract model, JFR won three multi-million pound, 13-15-year contracts with BBEC (Balfour Beatty Equitix Consortium), leading investors and long-term fund managers of core infrastructure assets.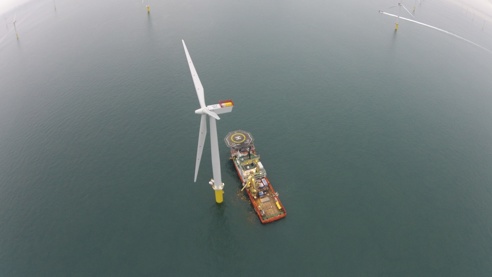 Innovation partnerships
In partnership with an independent oil and gas operator and a third-party development partner, RMSpumptools developed and successfully piloted an ultra-high temperature automatic diverter (ADV) for steam assisted gravity drainage (SAGD) wells in Canada. In traditional SAGD applications, wells are drilled as a pair – a steam injector well and a producer well. With the ultra-high temperature ADV, the same well can be used for both steam injection and production. This cuts the requisite number of wells in half, decreasing the environmental footprint required to recover the same amount of oil, and reducing the risk of pollution and environmental damage from drilling operations.
James Fisher Asset Information Services (JF AIS) entered a comprehensive partnership deal with digitalisation experts APIteq, to further develop, expand and deliver digital twin products and services to clients around the world. The combined teams represent the most experienced group of experts in the world regarding photogrammetric digital twin models and their application in industrial energy and process markets. Focus is on driving down costs, enhancing safety and productivity, reducing carbon footprint, and supporting industrial clients to transition to efficient digital workflows.
In partnership with German specialist, HydroTechnik Lübeck, ScanTech Offshore provides environmental protection through the application of big bubble barrier (BBB) technology. The BBB is a compressed air system that can be used to flexibly reduce noise emissions during offshore development projects and protect marine life during ammunition clearance underwater blasting. While the BBB technology has been in use for about 50 years, there was unprecedented surge in demand during 2021 due to the size and stackability of ScanTech Offshore's compressors.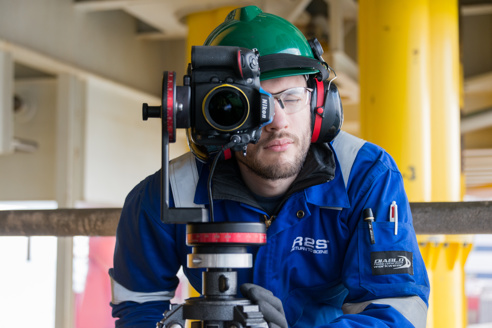 How we will deliver against targets
To improve the efficiency of our innovation process and bring consistency to how we manage the development of products, services, and capabilities, we have introduced and are integrating some tried-and-true innovation methodologies pertinent to our complex portfolio e.g. design thinking and Lean.
These methodologies will enable our operating companies to refine their product and service portfolio, to better understand customer needs and how success is defined, to apply design thinking and agile methodology in developing minimum viable products, to improve the speed to market, and to objectively measure the value and impact of solutions for stakeholders.
During 2022, we are evaluating the right KPI that reflects our innovation ambition, with the aim to set targets by 2023.
Key priorities under the partnership pillar of our sustainability strategy
Along with innovation, these are the key priorities under our partnership pillar.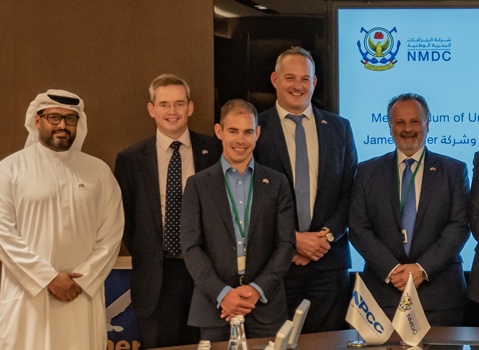 Partnership pillar
James Fisher operates in specialised segments of the energy, marine and defence markets where a strong track record of safety, integrity, innovation and responsible operations is a key differentiator. Find our more about our commitments to our partnerships.